This year has been busy, but the woodworking activities has been limited to concrete formwork. And there's other "life" stuff going on. But I am still here, and I do have plans. 🙂
I've been pretty busy the last months, working on the garden. Over the last two years I've converted a corner of our property from a non-useable, sloped mixture of rocks and bushes, into a nice little outdoor space where we can enjoy sunny days.
From before we bought the house:
After a LOT of work splitting rock using feathers and wedges, concrete work, digging, moving dirt, transporting gravel in my wheelbarrow, etc. etc., we now have a very nice space where we can place our picnic table and the fire pan.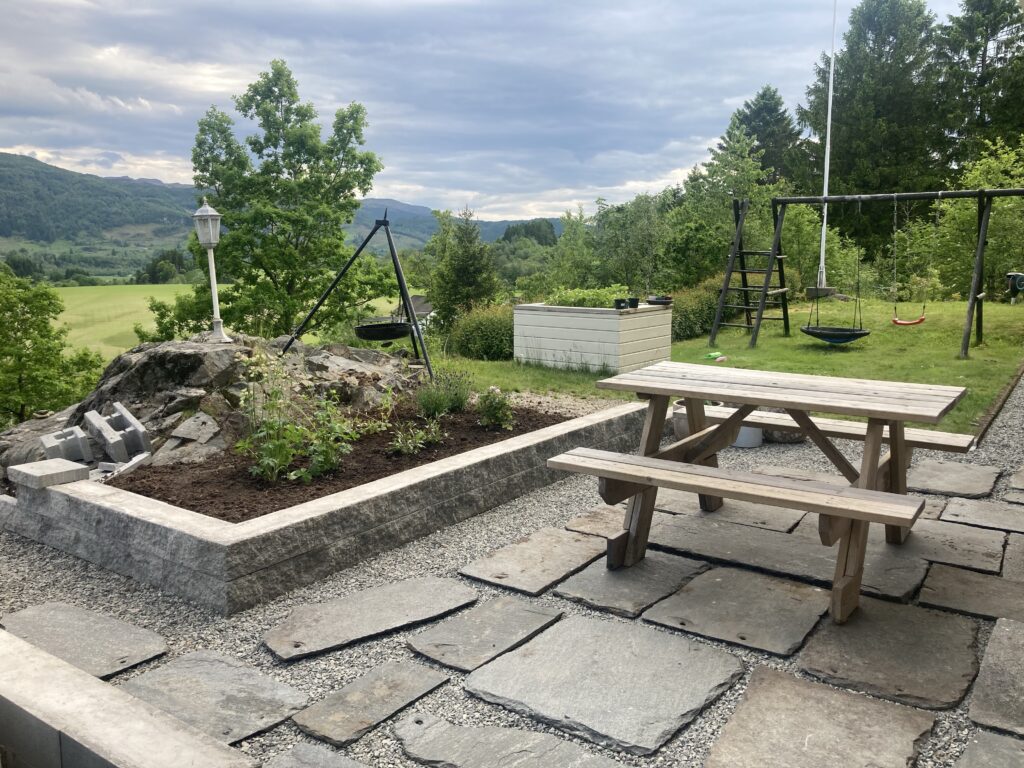 As for the "life" stuff, I'll spare you for the details – but I lost my father in law to cancer, and my own father is now under palliative cancer care. It has been and is hard to deal with all of this, but I do find comfort in knowing that we are not alone; this is, sadly, not a very unique situation. Thankfully, we do receive the strength we need to cope with hard times, and I find that my faith helps me put my thoughts on the right path. Thank you for any empathy, thoughts and/or prayers, no matter where you come from.
So, what's next woodworking-wise?
I have five projects in my pipeline. Looking through my current articles, I do spot a bit of a theme. The five projects are two wall shelves (why not, I have made a couple before… Though the new ones are different than the ones I've done before), a side table (this time with a book shelf), a "silencer" for my dust collector – and a rather large project where I plan to build a large book shelf with framed glass doors.
I have doodled around a bit pondering designs, and here's a quick sketch of the small side table with book shelf:
Yup, I know it looks like a book shelf – but the height corresponds with the arm rest height of our sofa. I'll leave it at that for now.
So now you know why this blog has been so idle lately. I see that my traffic has dwindled down a bit, but there's still a fair amount of readers. Either my articles are actually good, or you all get a good laugh. Which is fine by me, really. 🙂
For those who visit my blog looking for organ building stuff: I have acquired a good amount of beech wood, and I have a lot of quarter sawn oak on sticks (drying to furniture moisture levels, that is). I plan to build a console for my digital pipe organ, and I hope to one day make a small positif with a few stops. But it'll be years before that happens, I recon.
Thank you for visiting my blog! I wish you a nice day and hope you will visit from time to time.
Here's a pile of white oak drying out in my shop at the moment:
It just looks so promising, don't you think? 🙂